Why Change Your Oil at Beaver Toyota of Cumming?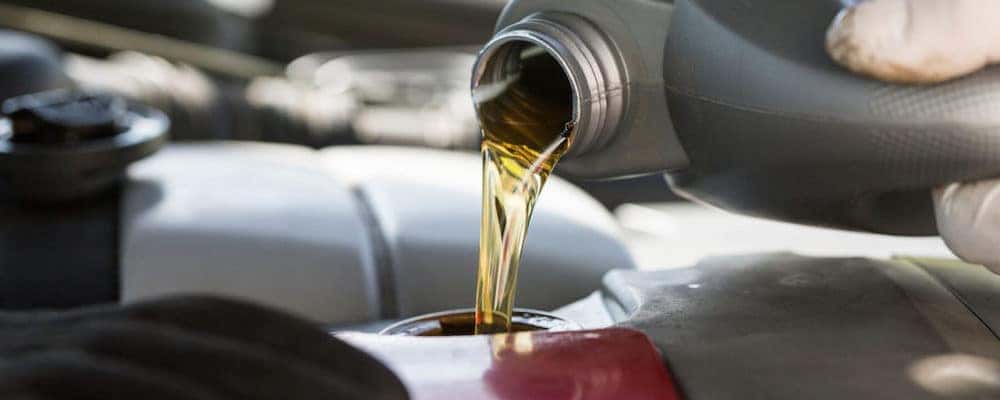 Regular oil changes are one of the most essential elements for proper car care. Follow our guide to the genuine Toyota Oil Change services we offer at Beaver Toyota of Cumming, then schedule service in our service department for your next Toyota oil change. This way, you can ensure that your Toyota is in great shape on Buford roads.
What Are the Benefits of a Regular Oil Change?
Why do cars need oil changes? If you've ever wondered what motor oil does, or why you need to change it regularly, you've come to the right place. Motor oil, also called engine oil, lubricates the moving parts of an engine and absorbs the heat caused by the friction of the moving parts, so the engine doesn't overheat.
Why do we need to change our oil? Over time, the oil breaks down and becomes less effective at preventing overheating. The oil should typically be changed every 5,000 miles, but if you have special synthetic oil in Alpharetta, you may only have to change it every 10,000 miles. Consult your owner's manual for a specific interval. If you do not change your oil regularly, you could be in danger of permanent damage to your engine. Additional benefits to changing your oil include:
Removes dirt and particles in the engine that can cause corrosion
Regular oil changes means better gas mileage
Improves the lifespan of your car
What Kind of Oil is Needed in Toyota Vehicles?
SAE-0W-20 synthetic oil is the Genuine Toyota motor oil used in Toyota vehicles with a specific additive package. If for whatever reason you do not have access to Genuine Toyota motor oil, other 0W-20 synthetic oils can be substituted, but not long-term. You can use 0W-20 and replace it with genuine Toyota motor oil at your next oil change at your Johns Creek-area service center.
Can You Mix Synthetic Oil with Regular Oil?
This is a common question among Roswell drivers. You actually can mix these two oils together into what's known as a synthetic blend motor oil. This gives you the performance aspects of synthetic oil without having to pay synthetic oil price. However, this should only be performed in a pinch, and you should only use this until you're able to get to your nearest Canton service center.
What Type of Oil Change Do I Need?
Depending on your Toyota vehicle, you may need standard conventional oil, synthetic, or something else. To give you an idea of what you might need, here are the different types of oil changes you can get:
Full Synthetic Motor Oil: This type of oil is ideal for high-performance vehicles that need much lubrication for the engine parts.
Synthetic Blend Motor Oil: Synthetic blend motor oil is a great middle ground as it combines synthetic oil with regular oil, giving you the quality performance of synthetic oil at a cheaper cost. When trying to decide between a synthetic oil change vs. synthetic blend, you can rely on this type of motor oil.
Conventional Motor Oil: The most common type of oil, this is used on most lighter-duty, late-model cars. A conventional oil change is used for vehicles with a fairly simple engine design.
High Mileage Motor Oil: Designed for cars with more than 75,000 miles, this type of oil reduces oil consumption and leaks.
What Does a Toyota Oil Change Cost?
The price of an oil change will vary depending on what type of vehicle you have and what type of oil is required. Typically, a standard conventional oil change can range anywhere from about $20-$50. A Synthetic oil change can cost between $45-$70. To get a specific quote, you can usually call the service center ahead of time and get a more exact price.
Why Change Your Oil at Beaver Toyota of Cumming?
If you're looking for a fair Toyota dealership oil change price, then visit Beaver Toyota of Cumming to get your oil changed without spending a fortune. To help you get even more out of your service experience, we also offer the following services:
We use genuine Toyota motor oil
Toyota-trained technicians with over 50 years of combined experience
Rotating service specials so you can get the best deal in Alpharetta
You can easily schedule an appointment online
Turn to Us for Toyota Service
If you have any additional service questions or want to check out car ownership tips like how to become a more fuel-efficient driver, please don't hesitate to contact us at Beaver Toyota of Cumming. Check out the oil changes covered by select Toyoguard programs today!
Learn More at Beaver Toyota of Cumming
FACES Of Forsyth: It's about 'rolling up our sleeves and helping the community' After a career working for many big name media organizations — her accolades are plenty — Cheryl McFadden says she's been "blessed" with the opportunity to work in what she calls, the most satisfying job of her career. When asked what makes…

Toyota makes a full line of family-friendly vehicles that can help provide what you need to safely transport your whole family. Toyota has a lineup of family-friendly SUVs that will allow you to do so safely every time. Toyota Highlander Hybrid If a fuel-efficient crossover SUV is more your style, then the Toyota Highlander…

When shopping for used cars, buyers have countless choices in terms of both vehicles and how to buy them. But what you're likely to discover is that buying your used vehicle from a dealership like Beaver Toyota is the smartest strategy, one that will leave you driving an attractive, reliable vehicle with the most peace…