Introducing the New Redesigned 2024 Toyota Tacoma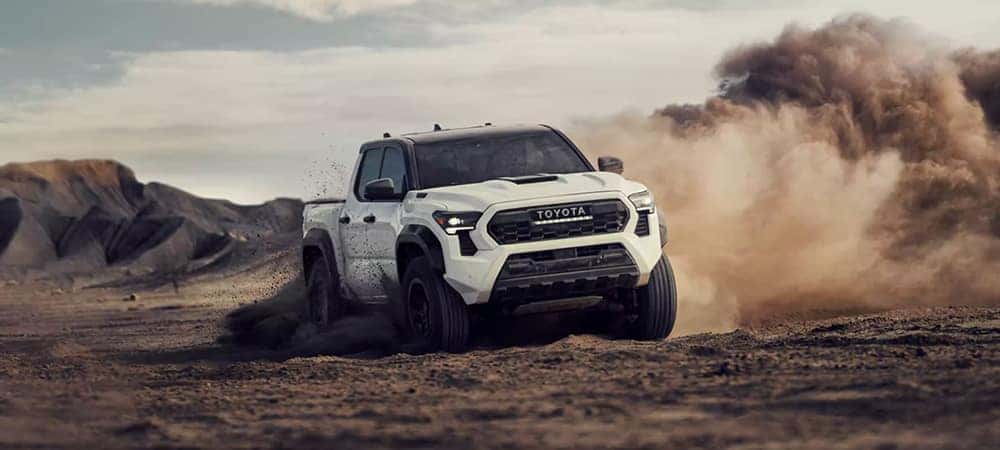 CLICK HERE TO RESERVE YOUR 2024 TACOMA TODAY!
Just when you thought the incredible Toyota Tacoma couldn't get any better, Toyota has redefined this epic ride to provide a legendary machine that has been re-engineered from the ground up. With more power and capability than ever before, the Tacoma is available in a wide spectrum of trim models that will ensure whether you're traversing across rugged terrain or kicking up sand dunes, you'll get where you want to go with an exhilarating ride.
Exterior Alterations
One look at the all-new 2024 Toyota Tacoma, and you'll instantly see that it has undergone some major exterior alterations. First on the list is its chassis. It has been completely redesigned on a new TNGA-F global truck platform that all Toyota truck models in its lineup now rest on. It has a ground clearance of 9.5 inches, which helps to ensure that you can enjoy its maximum off-road capabilities.
When it comes to bed size, the Tacoma sports a 7% larger bed size compared to its previous generations. This truck also models more configurations than before, with its XtraCab offering more cargo space. Drawing on the same notable enhancements of other Toyota models in its lineup, the Tacoma features updated styling elements, including a sleeker and more modern look.
Interior Updates
Toyota didn't stop its redesign process on the Tacoma's exterior. Instead, its interior now provides drivers and passengers with a welcoming, sophisticated, and stylish look. It features a two-tone dash with a large 14-inch display that offers a user-friendly interface and a comfortable ride. On its list of completely updated interior components are a wholly redesigned steering wheel and a fully digital 12.3-inch gauge cluster that drivers can enjoy features like the head-up display, power moonroof, and digital rearview mirror on select models. One unique feature of the redesigned Tacoma is its removable JBL Bluetooth speaker on its dash.
Motor Changes
As Toyota continues to steer its lineup towards a more eco-friendly world, the all-new Tacoma comes with an iForce Max Hybrid powertrain. This system offers a 48-horsepower electric motor strapped to a 2.4L engine that outputs 326 horsepower and a massive 465 lb per foot of torque. When comparing this to previous generations, this truck offers almost double the power. This new hybrid powertrain is available in the Limited, TRD Sport, TRD Off-Road, TRD Pro, and Trail Hunter trim variations.
Trail Hunter Trim Addition
Toyota has added an all-new trim level to its Tacoma lineup, the Trail Hunter edition. Developed in conjunction with Australian-based ARB Engineering, this new Toyota model features optimum quality, reliability, and durability. You'll find 2.5-inch forged monotube shocks, robust recovery points, and 33-inch Goodyear Territory R/T tires. This helps to increase the overall workload of the truck and offers an additional two inches of clearance for those off-road trail rides.
Call Us Today
If you want to learn more about the 2024 Toyota Tacoma, contact us at Beaver Toyota of Cumming today. Our helpful sales associates will be more than happy to assist you in learning more about this brand-new Toyota model. Or it you're ready for the adventure, CLICK HERE TO RESERVE YOUR 2024 TACOMA NOW!